St. Patrick's Day is traditionally my favorite day of the entire year (Thanksgiving and Halloween coming in close second and third). Every St. P's day in America since I was about 18 I started my morning with an Irish coffee and Flogging Molly blasting my ear drums out.  I was nervous this year that I wasn't going to be able to celebrate, I mean St. Patrick's Day in Asia? For my favorite day of the year it was worth a shot (or three).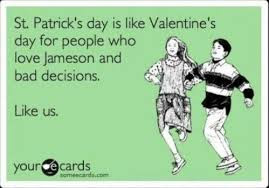 Sunday we went to Carnegie's an Irish/British style pub in Taipei for lunch. There were a few other foreigners sporting their green and drinking Guiness accompanied by their Taiwanese wife and children that were completely oblivious to the true spirit of the holiday along with the Carnegie's staff.
The food was O.K, overpriced western bar food, and the drink deals were nothing special (NT$100/shot) but it was nice to soak up the little green spirit I could find in such a red dominant part of the world. After Carnegie's we ended up in Ximending at the gay bars where you would have thought everyone was gearing up for a Saturday night, but that's just Ximending all the time.
Today on the actual day I wore my green shirt and green socks and green jewelry.
I remember how much I looked forward to St. Patrick's Day in elementary school, the gold chocolates and the leprechaun that got loose in our classroom and left his little green footprints all over, our music teacher's "I'm looking over a four leaf clover, that I've overlooked before…"
Looking back now I really appreciate now all the things my teachers did to make that a special and exciting day for us. I loved the myth of the leprechaun and tried to share it with my kids today. Mostly, I got confused looks or giggles about the silly little man with the red beard I brought a picture of to each class. But I persisted. As legend goes all leprechaun's are rich and hide their gold at the end of a rainbow, if you can find it the leprechaun will trade you one wish to get his gold back. Some of them believed me (the same ones who believe in ghosts and dragons), and I told my Kindergarteners that he brought them special green stickers but ultimately I think I failed to impart the same sense of magic that my teachers had instilled in me as a child. I love Taiwan, I really do, but I don't think I could ever permanently live in a country that doesn't appreciate the magic that is St. Patrick's Day.
And as I am on childhood nostalgia I remembered this song my mother used to sing to me as a child, I  thought about teaching the kids this but was afraid it would be too confusing.